Lean Six Sigma Black Belt Training
Duration: 4 weeks (conducted over 4 months)
This course comprises mixed classroom training and project workshops to teach participants a broad set of change management skills and technical tools to solve an organization's most costly problems. Each training week guides learners step-by-step through the Lean Six Sigma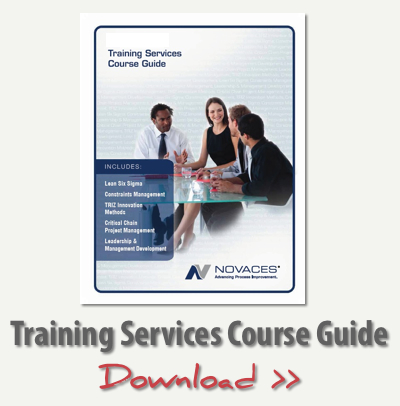 DMAIC (Define-Measure-Analyze-Improve-Control) project roadmap. Black Belt candidates arrive at training with a pre-selected project and apply the tools they learn to complete it and get real results. Training is tailored to the industry and the organization's strategic needs. Download the course fact sheet >>
Participants learn how to:
Execute Black Belt projects and drive change in the enterprise.
Define process metrics and set up measurement systems that enable data-based decision-making.
Analyze data to solve complex, enterprise-wide issues and present meaningful results to management.
Use the tools to produce measurable improvements.
Provide assistance and mentoring to Green Belts.
Course Agenda
Week 1
Week 2

What is Six Sigma?
What is Lean?
Lean Six Sigma Roadmap
Enterprise View of Lean Six Sigma
Introduction to Minitab
Project Definition
Lean Six Sigma Project Management
Basic Statistics
Basic Quality Tools
Sampling Distributions and Confidence Intervals
Attribute Measurement System Analysis

Advanced Measurement System Analysis
Data Quality
Probability Distributions
Process Control
Statistical Process Capability
Data Analysis
Hypothesis Testing
Analysis of Variance (ANOVA)
Week 3
Week 4

Regression Analysis
Change Management
Introduction to Design of Experiments
Two-Level Experimental Designs
Three-Level Experimental Designs
Introduction to Process Simulation
Conflict Resolution
Implementing Improvements

Reliability
Overview of Theory of Constraints
Lean Six Sigma Strategy
Design for Six Sigma
Supply Chain Management
Roadmap for Sustaining Improvement
Lean Six Sigma Capstone Simulation
For more information on our Lean Six Sigma courses, contact us.