New Healthcare Management Book Available Now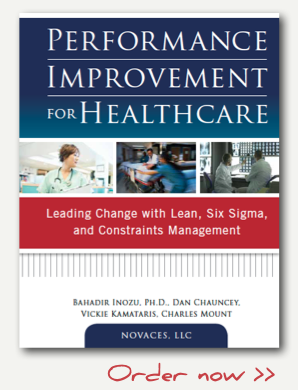 Performance Improvement for Healthcare: Leading Change with Lean, Six Sigma, and Constraints Management offers the "best of breed" integration of performance improvement approaches in terms of impacting patient experience, financial viability, and employee satisfaction.

While the goal is to improve performance across all aspects of the organization, the path is through identifying processes that are not meeting expectations—and fixing them.

CLICK HERE to preview Chapter 1.

Unlike "one size fits all" approaches, such as Lean only or Six Sigma only, the approach in this book integrates three main methodologies – Lean, Six Sigma, and Theory of Constraints (TOC) – by focusing on what is critical to the organization. By using the right tool for the right problem at the right time, the authors show how to deliver faster results and greater return on investment.

This pioneering guide presents a scalable strategy for managing bottlenecks, eliminating waste, reducing errors, and containing costs in healthcare organizations, as well as sustaining the gains achieved. Real-world case studies illustrate successful performance improvement implementations that have realized breakthrough operational and financial results.
In the book, you'll find:
Planning a performance improvement program deployment to ensure timely and consistent execution
Three-part organization assessment—strategic gap analysis, system-level value stream analysis, and system constraint analysis.
Constraints Management applications in healthcare
Applying the right tool to the right problem from a system perspective
Sustaining gains achieved by the performance improvement teams
Defining a path to self-sufficiency
Published by McGraw-Hill Professional and available now from Amazon.com and major retailers! You can also preview Chapter 1 by clicking here.
Check out these author videos:
"As a physician practicing in a managed care environment, I do face and deal with the increasing complexity and dysfunction of the healthcare system. We, the physicians, struggle to provide best possible care for our patients; however, the institutions lack the tools to identify and eliminate the root causes preventing the system from achieving better global outcomes. Performance Improvement for Healthcare is a practical guided process to direct efforts at the point of leverage for sustained improvement."

—Seza Gulec, MD, FACS
Professor of Surgery and Radiology/Nuclear Medicine
Chief of Surgical Oncology
Director of Surgical and Nuclear Oncology Research
The Herbert Wertheim College of Medicine, Florida International University