Press Releases
Apr 17, 2009
MARAD Recognizes Ivan Radovic of NOVACES for Helping to Improve Efficiencies of the US Ready Reserve Fleet
The implementation of Lean Six Sigma tools has resulted in helping to eliminate redundancy and cut excess costs.

New Orleans, LA (PRWEB) April 17, 2009 -- During the US Department of Transportation Maritime Administration (MARAD) Annual Ship Managers Executive Meeting, president Ivan Radovic of NOVACES was awarded for outstanding teamwork and enhancing the efficiency and effectiveness of the Ready Reserve Force using the principles of Lean Six Sigma. The event was held at the National World War II Museum in New Orleans.
Lean Six Sigma is a combination of two business improvement techniques. Lean focuses on eliminating waste and reducing cycle time, while Six Sigma focuses on improving quality and reducing variation.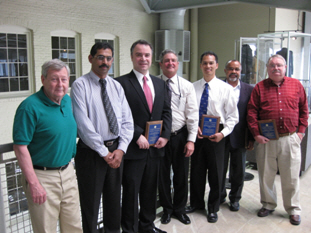 NOVACES, a consulting and training firm headquartered in New Orleans, is providing MARAD with Lean Six Sigma project support. The company has been engaged in Annual Regulatory Inspection and 5-year Special Hull Survey and dry docking Lean Six Sigma projects as mentor and implementation advisor. The award was presented by William Cahill, Director of Ship Operations for the US Maritime Administration.

During his acceptance remarks, Radovic noted that the application of Lean Six Sigma methods can be employed anywhere from scheduling of ships, level loading in the shops, birth transitions and dry docking to safety management and environmental areas. The methodology is a proven way to manage costs and gain efficiency. "Lean Six Sigma projects conducted at MARAD are a true partnership between the public and private sectors leading to significant operational improvements and cost benefits to the US Government," said Radovic.

The meeting was attended by senior MARAD leadership and executives of ship management companies participating in operating MARAD Ready Reserve Fleet (RRF) vessels. The RRF is managed by private-sector shipping companies and crewed by civilian US mariners. Ships enrolled in the fleet are kept in a state of "advanced readiness" for military sealift use on very short notice. They include fast sealift and roll-on / roll-off ships, modular cargo, heavy lifts and government-owned tankers.

Pictured left to right in photo: William Cahill, MARAD HQ Project Sponsor; Paul Varghese, Crowley Maritime Corporation; Ivan Radovic, NOVACES; Robert Babin, MARAD Gulf Region; Merwyn Oliveria, American Bureau of Shipping; George Kuchaparampil, MARAD Gulf Coast; and Grady Byrd, MARAD Gulf Coast

# # #