Press Releases
Feb 20, 2012
NOVACES to Showcase "Performance Improvement for Healthcare" Book at HIMSS12 in Las Vegas
NOVACES, a leading consulting firm for healthcare IT performance improvement, will showcase its new book "Performance Improvement for Healthcare" at the 2012 HIMSS Annual Conference & Exhibition in Las Vegas on Feb. 20-24. Recognized as one of the world's largest conferences in the healthcare industry, HIMSS12 brings together global healthcare information technology (IT) and management systems consultants and professionals.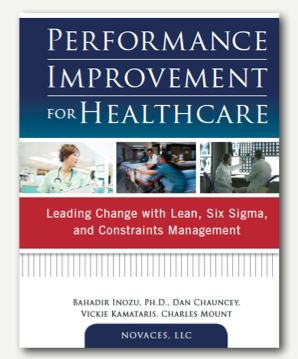 NOVACES has established itself as one of the industry's top healthcare performance improvement consulting firms. It has partnered with healthcare administrators, medical staff and IT departments at private and military hospitals, healthcare systems and medical campuses around the world. The firm's "Performance Improvement for Healthcare", published by McGraw-Hill Professional, presents proven strategies to improve the adoption of transformational change, such as the implementation of new technology and information systems.

NOVACES offers its clients expertise in solving a wide array of healthcare IT challenges, a team of healthcare and MIS experts and proven methodologies for process improvement. Together, these assets produce a high return on investment and empower healthcare organizations to affect sustainable business process changes that positively impact patient outcomes, operational efficiencies, data integrity and resource allocation.

Healthcare information technology is the future for patient care delivery. In order for that to be successful, ensure efficiency and effectiveness, well defined processes and systems need to be designed. Providers want to practice medicine and have the best technology to support patient care with safe clinical outcomes.

The 2012 HIMSS annual conference is expected to attract about 30,000 attendees. The event features more than 400 educational sessions on topics including accountable care organizations (ACOs), meaningful use, clinical engineering, RFID, RTLS, EMR and EHR, value-based healthcare purchasing, mobile health, clinical and business analytics and intelligence, medical cloud computing and ICD-10 conversion and compliance and the secondary use of medical data.

Copies of the book will be available for sale at the NOVACES booth #113 in the exhibition hall.

About NOVACES
NOVACES is one of the industry's leading healthcare performance improvement consulting firms. The company specializes in healthcare performance improvement, Lean Six Sigma, and quality management consulting and training services to hospitals, health systems, large physician networks, nursing homes and rehabilitation centers. The firm's book, "Performance Improvement for Healthcare," provides healthcare organizations with a framework to deploy a best of breed performance improvement program that yields sustainable change and an outstanding annual return on investment. For more information, visit www.novaces.com/healthcare or call 1.855.NOVACES.