Press Releases
Feb 24, 2012
Profit Improvement Expert and Author Bob Sproull to Speak At 2012 Continuous Process Improvement Symposium
Bob Sproull, an author, executive and business turnaround expert, to present at the 2012 Continuous Process Improvement Symposium based on his recently released book "Epiphanized: Integrating Theory of Constraints, Lean and Six Sigma." Sproull's presentation will include a case study of an initiative to improve aircraft availability and mission readiness using the strategy he advocates in his book.
New Orleans, LA (Feb. 24, 2012) – In this seventh year of the annual Continuous Process Improvement Symposium, the committee has developed an agenda with a mission to propagate largely unknown management methods that, if adopted by U.S. companies, can transform the economy and restore competitiveness. One of this year's key speakers is Bob Sproull, an author, executive and business turnaround expert, who recently released his book "Epiphanized: Integrating Theory of Constraints, Lean and Six Sigma."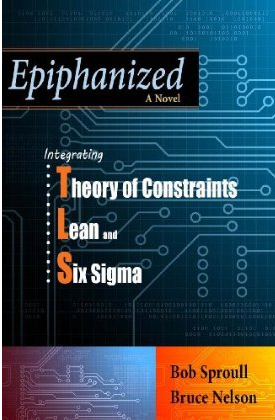 Sproull is to give two presentations that derive from his current work in the manufacturing and Maintenance, Repair and Overhaul (MRO) industries. "The Importance of Knowing Where to Hammer" is discussion of systems and interconnectedness, the shortcomings of local improvements or improving processes in isolation from a business context. "The importance of knowing where to hammer… the reality that every system has a weakest link that must be identified, exploited and leveraged must be top-of-mind for every leader," says Sproull.

The first presentation will be followed by an aviation maintenance case study that will show the results of an initiative where Lean Six Sigma and Theory of Constraints were applied together. Sproull's most recent work in aviation MRO allowed for these methods to be applied and fine tuned to achieve extraordinary improvements in mission readiness and aircraft availability that are not commonly achieved with traditional process improvement approaches in the MRO environment.

The symposium is being held at California State University North Ridge on February 24-25 and will focus on management methodologies including Lean, Six Sigma, Theory of Constraints, and Critical Chain Project Management. For those who cannot travel to the site, a live video feed is available during the show and recordings will be available afterwards at the symposium's website: www.cpi-symposiums.com.

About Bob Sproull
Bob Sproull is a Senior Business Consultant for NOVACES since 2011 and former Manager of the Office of Continuous Improvement for Army Fleet Support. Bob is a certified Lean Six Sigma Master Black Belt and a Theory of Constraints Jonah. Bob is an experienced manufacturing executive who has served as a Vice President of Quality, Engineering and Continuous Improvement for two different manufacturing companies, has an extensive consulting background in Manufacturing, Healthcare and MRO and focuses on teaching companies how to maximize their profitability through an integrated Theory of Constraints, Lean and Six Sigma (TLS) improvement methodology. Bob is a nationally known speaker and author of three different books. Bob resides in Kennesaw, GA and has been married to his lovely wife Beverly for almost 44 years.
###