SystemCPI: Lean Six Sigma Implementation Planning
The integration of Lean and Six Sigma was the last real revolution in process improvement strategy. Now, with most of the low hanging fruit gone, leaders are challenged to implement breakthrough methods that produce increasingly better bottom line results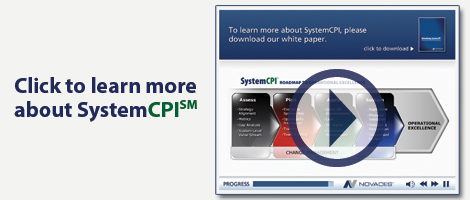 .
SystemCPI, an integrated framework to deploy and manage a process improvement program, incorporates Constraints Management tools to understand the key leverage points of your organization. This roadmap simplifies management's job by providing a systems perspective to focus improvements and break system constraints, especially given today's economy and the scarce resources that are available.
We have refined and tested SystemCPI over years of application by expert CPI leaders to produce a holistic improvement methodology that eliminates the shortfalls of previous approaches:
Scales to any size organization and aligns to existing business strategy.
Shortens the traditional execution time from adoption to results.
Optimizes the utilization of resources required to achieve the desired goals.
Breaks system constraints and maximizes organizational efficiency.
Sustains the gains and defines a path to self-sufficiency.
Whether you're at the beginning of your journey to process excellence or needing to re-energize your current program, download the SystemCPI whitepaper to learn more about how to successfully integrate these methods for your organization.