Constraints Management
CONSTRAINTS MANAGEMENT TRAINING COURSES
Constraints Management Overview
Logical Thinking Process
Throughput Decision Support
CONSTRAINTS MANAGEMENT OVERVIEW
Course Length: 4 hours
This introductory training session covers the fundamentals of Constraints Management. Participants will learn how the basic principles such as 5 Focusing Steps and Logical Thinking processes are applied in various industries.
Learning Objectives
Learn the fundamental Theory of Constraints principles
Understand how Constraints Management is applied to various situations including operations, inventory management, strategic planning, supply chain management, project management and finance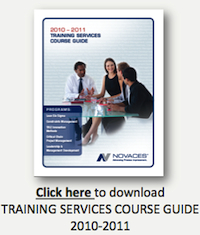 Primary Topics
5 Focusing Steps

Logical Thinking Process
Drum-Buffer-Rope (DBR) and Simplified DBR
Buffer Management
Replenishment
The Distribution Solution
Critical Chain
Throughput Decision Support
For more information about this course please call 1.877.577.6888 or click here to contact us by email.