Army HRSolutions
In 2009, NOVACES was selected as a partner to one of twelve consulting companies nationwide to provide Human Resource (HR) studies and analysis under the HRsolutions Contract Vehicle for the United States Army. However, this contract vehicle can be use by any Military Service or Federal Agency that would like to take advantage of its capabilities.
About Army HRSolutions
The HRsolutions Program Office was launched in 2004 and is now an initiative in the office of Deputy Under Secretary of the Army (DUSA). It was created to streamline the acquisition of HR services through a competitive, efficient, standardized, and well-managed process that emphasizes accountability and performance.
What are the Advantages?
The HRsolutions Program Office and contract vehicle provides the following advantages:
Offers complete contract coverage of only those Human Resources functions that are appropriate for private sector performance.
Provides high-quality contract services, tailored to specific needs, can be obtained quickly.
Contract is already in place; task orders will be competed among the incumbent prime contractors.
You are included in the evaluation and selection process.
Processing time is very quick, usually within 60 days.
Products and Services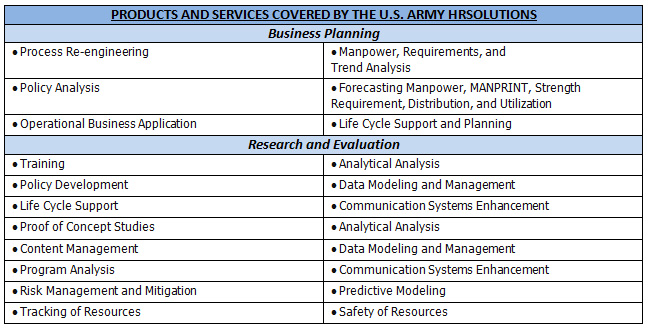 Official HRSolutions Program Office Contact Information
www.HRsolutions.army.mil
Phone: (703) 602-2773
DSN: 332-2773
FAX: (703) 602-2776
DSN FAX: 332-2776
Program Manager/COR: Mr. John Pastino
john.pastino@us.army.mil
(703) 602-2773
Contracting Officer: Ms. Patricia Thompson
patricia.d.thompson@us.army.mil
(703) 428-0395
Prime Contract
Cline-Morin Associates, Inc. (CMA)
Mr. John P. Fenstermaker
Address: 2001 Jefferson Davis Highway, Arlington, VA 22202
Phone: (703) 418-3970 Ext: 103
www.cline-morinassociates.com
NOVACES Contract Manager
Ivan Radovic
Phone: 1-504-544-6888 x201
650 Poydras Street, New Orleans LA 70130
Email: iradovic@novaces.com