TRIZ INNOVATION METHODS
Course Length: 2 days
This training is offered to process improvement practitioners and deployment leaders to produce breakthrough solutions to problems. Using this training enables participants to practice the most popular innovation tools for their problems. Participants will understand how innovation leaders such as Intel, Honeywell, Cummins, Caterpillar, 3M, and many other Fortune 500 businesses, incorporate TRIZ tools into their Lean, Six Sigma and other improvement programs and how TRIZ tools help Green, Black and Master Black Belts to produce breakthrough process improvements.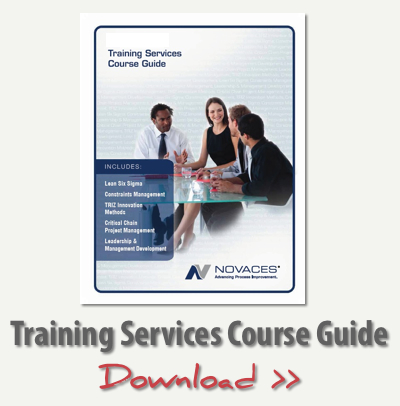 Primary Topics
Fundamentals of Innovation with TRIZ

Generating Superior Solutions without Compromise

Ideal Final Result and Ideality

Dealing with System Constraints

Functional Analysis and Trimming

Substance-Field Analysis

Seventy-Six Standard Solutions

Identification and Utilization of Idle Resources

Talented Thinking

Thinking in Time and Space
Course Objectives
Understand how to use the TRIZ tools in combination with Lean, Six Sigma DMAIC and DFSS, TOC and other CPI methods in solving business challenges

Know the fundamentals of creative problem solving; TRIZ history and philosophy

Use the TRIZ matrix to solve technical and physical contradictions

Understand the 40 Inventive Principles and 39 features

Be able to solve difficult problems by optimizing and understanding resources
For more information about this course please call 1.855.NOVACES or click here to contact us by email.