Critical Chain Project Management
Project portfolio management drives both the delivery of client services and the achievement of business initiatives. If the project management system is not performing at peak levels, your organization is likely struggling to meet its business objectives.
Critical Chain Project Management (CCPM) is a technology that significantly improves project delivery systems, regardless of industry or business environment. If you depend on the reliable and speedy delivery of projects, Critical Chain is a powerful solution for your business. Now you can implement a proven project portfolio management solution and the benefits of Critical Chain by choosing BeingManagment3 software.
Clients choose BeingManagement to solve these core problems:
How do we synchronize information to manage a portfolio of projects?
When is the right time to release a new project into the system?
How do we deal with frequently changing priorities?
How can we manage capacity and prevent organization overload?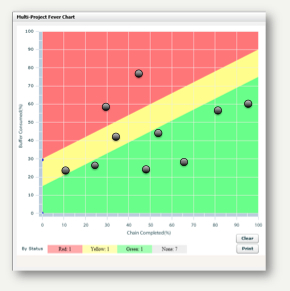 Those four core problems rob your organization of capacity and speed. Break through the barriers of your current project management system.
Shorten lead times
Gain responsiveness and agility
Capture opportunities to earn more profit
Reach new levels of productivity
Enable more collaboration among teams
Deliver on more schedule commitments
BeingManagement3 is a fully capable platform for Critical Chain technology. Here are the benefits:
Lead time reductions ranging from 20-50%
On-time delivery performance increased to above 95%
Project cost reductions reported between 10-30%
Quality products and services delivered without compromising any value

As a Project Portfolio Management solution, BeingManagement has exceptional functionality, highly-refined user interfaces, and proven dependability.
Get rich, on-demand dashboard reports including Critical Chain fever charts
Prioritize projects with the critical chain scheduling capabilities and what-if analysis
Control projects based on critical chain buffer systems with an intuitive graphical interface
Gain ability to evaluate resource loading across the entire portfolio
Assess the impact of priority changes and emergent work on project throughput
Use portfolio analysis tools to determine the optimum time to release new work into the system
Seamlessly communicate task priorities to the resource pool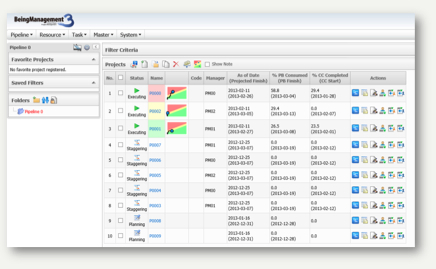 BeingManagement3 is the best selling Critical Chain software in Japan.
Not only is it the best selling Critical Chain software in Japan, in fact it's the #2 best selling project management software according to the 2010 Fuji Chimera Research Institute study. It has been refined and proven in Japan. Now it is ready to create breakthroughs for your business.

Industry-leading companies trust BeingManagement.
With hundreds of clients who use BeingManagement to accelerate their project performance, this solution has come to be trusted by a wide variety of industry-leading companies. The software is developed and supported by Being Corporation, which is a publicly traded Japanese software development company established in 1984. NOVACES is proud to be an exclusive reselling partner for BeingManagement in North America.