CRITICAL CHAIN PROJECT MANAGEMENT FOR PROJECT MANAGERS
Course Length: 4 days
This course teaches project managers how to properly implement CCPM. The course provides all of the tactics, tools and techniques needed to successfully apply CCPM to achieve breakthrough improvement in project performance.
Course Objectives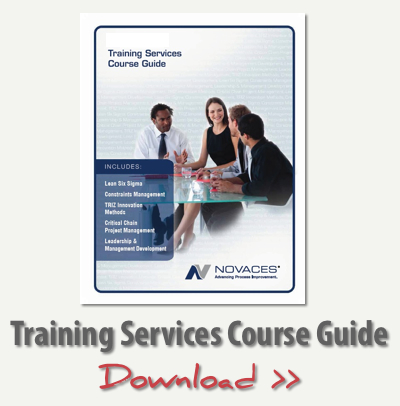 Understand how to properly scope a project that will be managed with CCPM

Be able to perform task estimations and use the tools to right-size task duration

Apply a project value stream assessment

Be able to conduct a policy constraints workshop

Understand multi-tasking and how to mitigate the impact of multi-tasking

Know how to schedule a project and determine the critical path

Determine and implement task and project buffers

Apply tracking tools to monitor a critical chain project

Be able to develop and apply CCPM Run rules

Understand and successfully apply daily stand ups

Know how to successfully close out projects

Understand multi-project critical chain
Primary Topics
Relation of CCPM and Portfolio Management

Establishment of Buffers and Buffer Management

Project Team Facilitation and Rules of Engagement

Critical Chain Scheduling

Project Behavior Development and Management

CCPM Leader Tasks and Tools
For more information about this course please call 1.855.NOVACES or click here to contact us by email.