BASIC PROBLEM SOLVING AND PROCESS IMPROVEMENT
Course Length: 2 days
In this course, the participant will learn basic problem solving tools and skills such as root cause analysis, cause and effect diagrams, the 5 whys and basic data analysis techniques. This hands-on course covers some of the basic problem solving tools typically taught in a Lean Six Sigma Green Belt course. As part of the training, each participant is required to identify and develop a plan to improve at least one process in their organization. The training incorporates a simulation to enable participants to practice applying the tools. Participants are required to brief their leadership on their plan with expected outcomes and metrics for success.
Course Objectives
Know how to identify and select the pertinent business problems

Be able to write an effective problem statement

Be able to determine the starting and ending process points of a given problem

Gain experience using basic quality tools

Know how to effectively measure process changes
Primary Topics
Prioritizing Problems

Generating Effective Problem Statements

Effective Scoping

Basic Quality Tools

Measuring Impact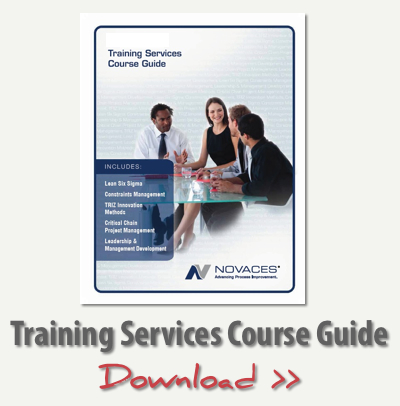 For more information about this course please call 1.855.NOVACES or click here to contact us by email.