FACILITATION AND GOALS DEPLOYMENT
Course Length: 2 days
In this course, participants learn how to develop their own organization / departmental mission, goals, and objectives. Included in the training are techniques to identify specified tasks, implied tasks, and critical tasks. Additionally, participants learn to identify road blocks to task accomplishment and how to mitigate or avoid them. As a result of this course, leaders are given a blueprint for facilitating a Goals Deployment Workshop for their organization and to gain buy-in and consensus from employees. Each participant is required to develop a plan for their organization and to schedule a workshop soon after course completion. Instructor mentorship is advised for the execution of a Goals Deployment Workshop.
Course Objectives
Generate objectives linked to a mission and vision statement

Deploy objectives as measurable targets within a functional area
Primary Topics
Mission Statements and Vision
Deploying Objectives Using an X-Matrix
Bowling Charts
Goals Deployment Workshop Blueprint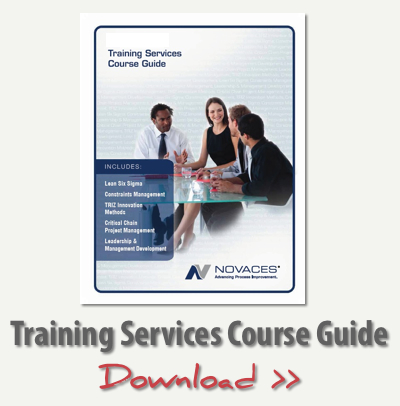 For more information about this course please call 1.855.NOVACES or click here to contact us by email.